Home /
Retail Cloud Operations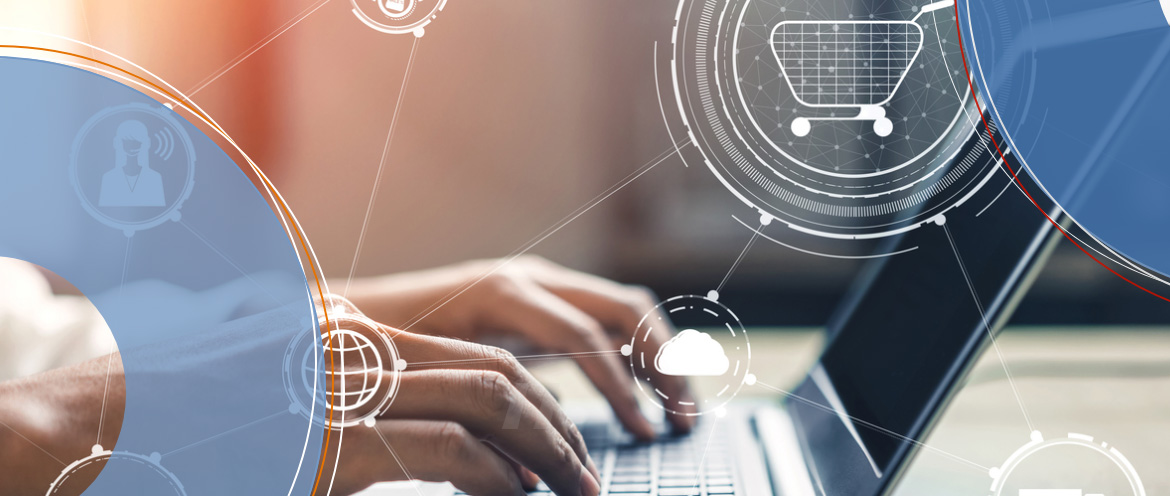 Technology has become a strategic imperative for retailers. Staying relevant and profitable requires digital investment. Growing share of wallet requires transforming the shopping experience. The retail experience of the future will be propelled by physical technology and advanced analytics to meet changing consumer expectations.
The retail industry worldwide is at the forefront of a technology revolution, driven by two forces. One is consumer behavior, ecommerce sales are growing faster than in-person sales and two, shoppers are shifting in-person buying preferences to shorter visits and more focused shopping in smaller store formats. This means that consumers are interacting with retailers in new ways across all channels. Heritage retailers' face intense pressure on margins from the cost of meeting new expectations while competing against digitally native retailers and new age ecommerce business models.
To thrive in a future of proliferating technology, retailers will need to re-imagine the very nature and role of physical retail. Technology can enhance the customer experience, lower costs, and increase business agility to deploy solutions and transform the organization. Rather than simply automating the current operating model, retailers should rethink their value propositions for customers. The changing consumer landscape is forcing an evolution in the role of stores from single-use self-service buildings to multi-use click-and collect touchpoints.
Cloud, modern data management and platforms, and advanced analytics are essential to optimizing processes. Retailers can forecast demand more precisely (and minimize inventories), improve distribution routes, and minimize trips from the store warehouse to replenish shelves. Just as importantly, these cloud technologies enable rapid shifts in business processes that traditional data and analytics solutions simply cannot match. Born in the cloud retailers have an edge in their ability to rapidly change and transform. Traditional in-store retailers have an edge in that they offer a real tactile and "eye-to-eye" experience – a human experience. Traditional retail can digitalize and give customers the best of both worlds.
The Journey:
Haystream has helped retailers take an incremental workflow approach to leveraging the cloud. Rather than migrating applications randomly, Haystream assists clients in identifying their highest-impact workflows and move them first. These workflows and their corresponding applications are re-engineered to leverage advanced cloud capabilities such as big data, artificial intelligence/machine learning (AI/ML), application-programming-interface (API) platforms, and developer tools, and they will drive maximum value for customers.
Haystream will help you:
Set transformation goals with dual focus on consumer experience and future consumer value proposition (e.g., convenience, service, price)
Outline omnichannel fulfilment offering, by region and product category
Build out design-led perspective on new, tech-enabled customer models
Define core enablers of the value proposition
Create new SOPs for those working alongside technology
Identify locations for technology piloting and sequence roll-out
Scope how systems and analytics will enable flexible scheduling and productivity enhancements
Select and set up new employee platforms to digitally enable sales staff in store
Select best-fit technology, including vendor assessment
Embed AI-enabled reporting
Haystream will help you build Retail Cloud Operations that:
Enable high-performance, scalable connectivity for business continuity
Inventory tracking to better manage your supply chain
Enhance customer experience with omnichannel solutions
Enrich in-store operations by connecting the digital and in-store journeys
Optimize store operations as you adopt AI, IoT, enable dynamic pricing with digital price tags, and price monitoring
Upgrade the sophistication of point-of-sale applications
The Strategy:
Haystream will help improve performance and consumer experience through cloud migration and setting up operations in the cloud. As part of the strategy, Haystream will help you in getting the front-end and back-end workflows right.
Pricing and margin management – Pricing is a critical consideration for consumers and a major data-heavy responsibility. It has implications for gross margin and sell-through rate and is also likely to impact transaction time. Merchants need to stay aware of competitors' prices, analyze sales history with high granularity (often at the store level), predict repricing opportunities, analyze margin and sales implications, and translate the results of these analyses into pricing in stores and on the website. The cloud also opens opportunities to easily integrate data from external sources and to drive insights by leveraging machine learning and analytics. This involves:
Benchmark Pricing
Predict re-pricing opportunities
Discover Pricing insights
Website and recommendation-engine personalization allows CMOs to ensure that the right products are shown to the right customers. Personalization has a direct correlation to incremental revenue and increased conversion rate. Haystream helps you get a 360-degree view of the customer through data reconciliation, attribution across multiple channels, and integrating with partner data sources. Haystream has helped technology leaders in retail organizations to realize the value of cloud-based data clean-up and manipulation tools that can stitch together multiple data sources. The scale of the cloud and the recommendation platforms enables retailers to act quickly, such as setting up A/B testing scenarios, validating performance, and iterating on their personalization algorithms. This involves:
Data aggregation and curation
360-degree view of the customer
Data enhancement
Data Science
Personalized home page
Check-out and Recommendations (AI & Analytics)
The cloud turbo charges loyalty-program management. The cloud simplifies and accelerates integrating multiple data sources to enable a unified view of consumers across transactions and channels (in-store, mobile, web, and even social media). It can also power both real-time and batch data processing. Furthermore, CMOs can take advantage of cloud-based capabilities to engage customers through personalized digital promotions based on real-time big-data analytics. This involves:
​Building Digital Assets
Leveraging real-time big data analytics (personalization) and NLP capabilities (sentiment analysis) for before, during and after store visit
Driving app downloads and sign ups
Real-time inventory visibility is one of the foundational capabilities for successful omnichannel retail. Cloud data platforms could construct a real-time single source of truth for inventory levels across all channels and all users, both customers and employees, by connecting into data pipelines and unifying all data sources with low latency and high transaction throughput. This involves:
​Inventory optimization
Replenishment alerts
Predictive analytics to optimize the supply chain
Real-time POS & Inventory update on sale
In-store navigation with exact aisle location (On mobile store device)
Omnichannel order fulfillment enables retailers to find nearest inventory for out-of-stock items.  These solutions leverage ML-based analytics, which offers analytical capabilities needed to identify the stores closest to the customer that carry the items the customer has chosen, real-time margin calculation comparing store pickup with warehouse shipping, and accurate order-ready-time prediction based on store, items in basket, time of day, etc.
Haystream works with CIOs hand-in-hand to implement and leverage cloud infrastructure and analytics platforms. Predictive analytics and prescriptive inventory-forecasting engines enable retailers to meet the challenges of optimizing inventory management factoring seasonality, promotions, trends, and product substitutes for efficient forecasting.
CIOs must ensure that the digital strategy includes the successful transformation of business models and clinical operations. Consistently.